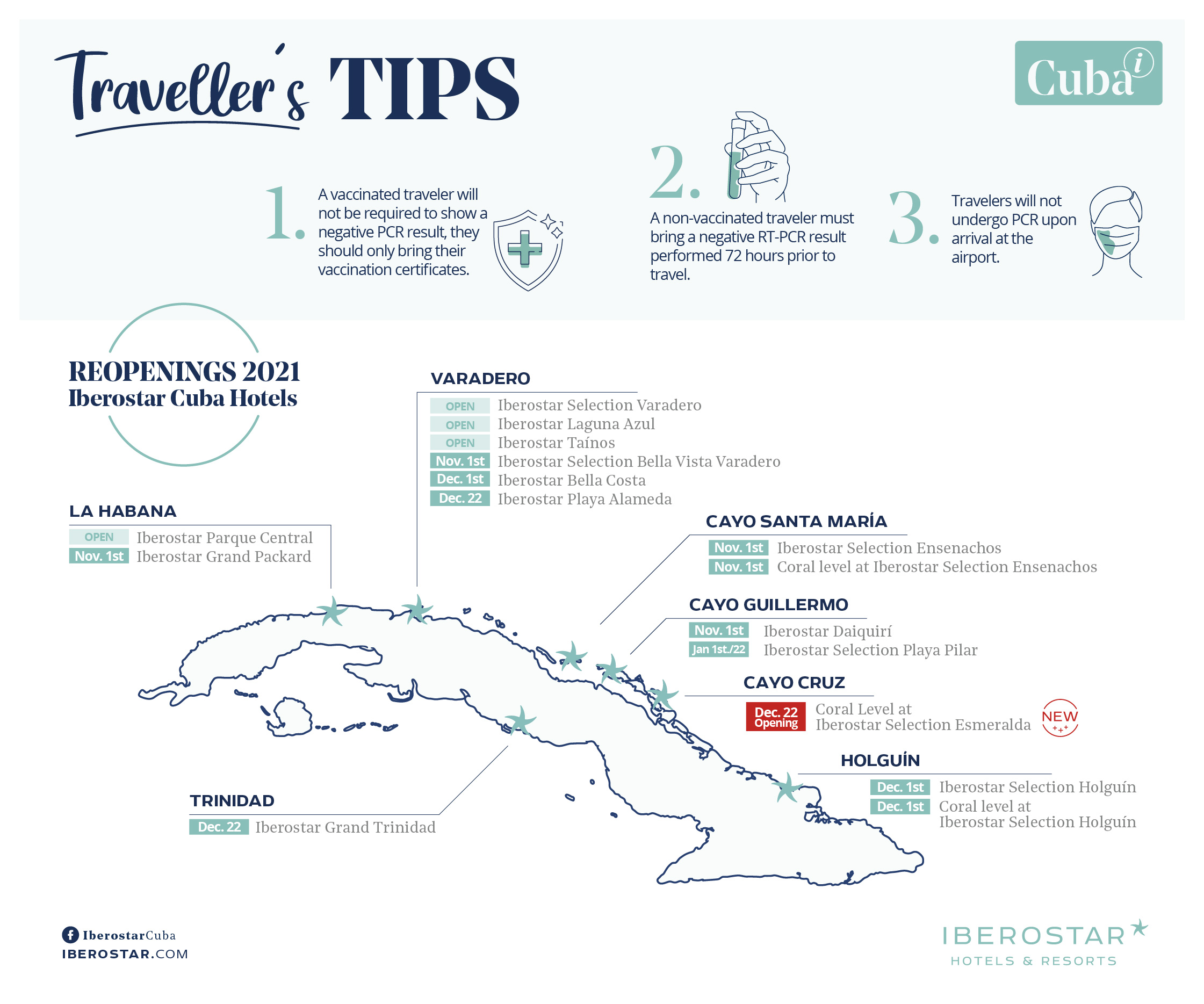 Opening of borders November 2021
CUBA´S CUSTOMS RULES
In order to enter into and departure from Cuba, an individual will be needed a six-month validity Passport, tourist card or visa and a round-trip ticket. Upon arriving in Cuba, José Martí´s airport immigration officials will request passport, round-trip ticket and tourist card or visa.
TOURIST CARD OR VISA
It is mandatory to hold a tourist card or visa to enter into Cuba. Upon buying your round-trip ticket, you must request the travel agency or the Cuban diplomatic representation based in your country the tourist card or visa in order to enter into Cuba.
Visa for Cuba is valid for 30 days. Whether your stay in the Caribbean Island exceeded the respective 30 days, you should renew your tourist card or visa. This legal procedure must be carried out at the available immigration offices of Cuban provinces´ capitals and must meet the following: a prior CUC tax payment in stamps which are available to buy at Metropolitan Bank branches.
HEALTH INSURANCE
The Cuban government demands a Medical Travel Insurance covered by Medical Expenditures and valid for the whole stay period. All those people who are interested in travelling to Cuba are obliged to provide a Medical Insurance covering all medical expenditures in case of either a disease or accident.
OFFICIAL CURRENCY
The Cuban Pesos (CUP) is the official circulating currency in Cuba. It can be obtained upon arriving the country, at the airport, hotels, Banks and currency exchange offices (Cadecas). The exchangeable international currencies are: Euro, US and Canadian dollar, Sterling Pound, Swiss Francs, Mexican Pesos and Japanese Yen, in accordance with the current exchange rate.
CREDIT CARDS
You can also use credit cards as VISA, MASTERCARD and CABAL, as long as they are not drawn from a U.S. bank.
SAFETY
Cuba is a very safe nation.
COVID-19 PROTOCOLS
In this rapidly changing new post Covid-19 era, we are doing our best to adapt to new requirements and expectations. In response to this, here are some important new steps and procedures that we are implementing to improve hygiene protocols, meet the physical distancing requirements set by the relevant government authorities, and provide our travelers with peace of mind and confidence when traveling during these new times.
Ministry of Tourism COVID-19 protocols https://www.mintur.gob.cu/protocolos/. Implemented until November 14, 2021
Airport
Medical control points for the entry of clients to the country and new sanitation procedures during immigration processes and baggage claim.
As of January 1, 2021, all international travelers must present a certificate with a negative result of a PCR-RT for SARS Cov-2, from a certified laboratory in the country of origin and carried out within a period of 72 hours before the arrival in Cuba, they must carry insurance that includes covid and pay the Cuban health tax considered in air ticket price
Upon arrival, the client is tested for the PCR and given a sample number. The result is sent to the hotel where he/she is staying. We must point out that the client cannot leave the declared place in his accommodation without knowing this result first, health safety regulations must be followed included stablish quarantine, all rules should be detailed to you in advance
If the foreign country before the travel back ask for a new Pcr it can be done paying a fee per guest 72 hours prior departure
Tour guides and drivers
Drivers:
A thorough cleaning of the vehicle's interior surfaces is carried out between each trip.
Drivers use protective materials and implements.
Drivers are ready to provide information on hygiene that the client may request
Guides
Tour guides and representatives have been trained with improved hygiene and physical distancing procedures. During your trip, they will operate with a duty to care for and control the hygiene etiquette of our guests, reacting and advising as necessary, to ensure that high standards are maintained by avoiding the delivery of any printed materials.
Guides at museums and other sites are also applying, as much as possible, the same standard to these new hygiene and distancing protocols.
If headphones are used or whispers are hired, they must be disinfected during tourist tours.
All vehicles (cars / vans / coaches) are disinfected before the start of your trip.
Vehicle operators must follow hygiene and sanitary practices in accordance with World Health Organization (WHO) guidelines and, as necessary, applicable government regulations.
Each client must carry hand sanitizer; on the bus it will also be available free on board chlorinated water for use throughout the day. It is also a requirement to use this sanitizer at the entrance of places to visit
Each client must travel with his/her personal face masks and additional gloves and is responsible for disposing them at approved disposal facilities. Masks are necessary all time
Official Website of the Ministry of Public Health
WEATHER
Cuba has a moderate sub-tropical weather. Havana and the western provinces have a chillier and nicer weather than in the Eastern region.
DRESSING CODE
It is advisable to wear cotton-made clothes.
ELECTRIC POWER
The electric current generally works to 110 V/60 Hz.
MOBILE PHONES AND INTERNET USE
Roaming (a service that allows your personal mobile phone line to go on operating in Cuba): http://www.etecsa.cu/telefonia_movil/roaming/
Service contract with Cubacel: http://www.etecsa.cu/telefonia_movil/contratacion_y_activacion/
Countries and operators with SMS HUB contracts: http://www.etecsa.cu/telefonia_movil/sms_hub/
Internet service and connection: http://www.etecsa.cu/internet_conectividad/
Web navigation rooms: http://www.etecsa.cu/internet_conectividad/salas_de_navegacion/